Altadena Now is published daily and will host archives of Timothy Rutt's Altadena blog and his later Altadena Point sites.
Altadena Now encourages solicitation of events information, news items, announcements, photographs and videos.
Please email to: Editor@Altadena-Now.com
James Macpherson, Editor
Candice Merrill, Events
Megan Hole, Lifestyles
David Alvarado, Advertising
Archives
Friday, May 29, 2015
Titus! Ivy! Kate! Roxie! Here Come the Pets of the Week
This week, we introduce you to four pets up for adoption now at the Pasadena Humane Society. See a friendly face you want to bring home? Call (626) 792-7151 with the ID number.
A377847 — Titu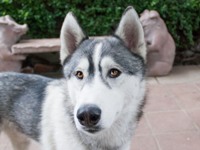 s is a two-year-old, male, white and gray Siberian Husky mix. He enjoys attention and treats, as well as going for walks. Like many Huskies, Titus likes to talk! He has already been neutered which means he would be able to go home with you today.
A374094 — Ivy is a beautif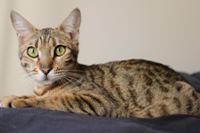 ul two-year-old Spayed female brown tabby Bengal mix with an affectionate and social personality. Ivy came into the shelter pregnant and had 6 adorable kittens that will be available for adoption very soon. Her foster mom reports that she was a great mom and is litter box trained. Ivy loves to be the center of attention and has interacted well with both adults and older children. She would need to find a home in a single cat household.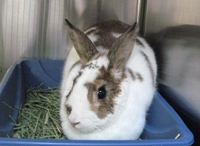 A375930 — Kate is a four-year-old spayed female white and brown shorthaired rabbit. She is very sweet and easy to handle. Her adoption fee is reduced to $15 during our "Hop Into Summer" event.
The "Extra Love" Category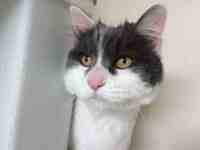 A377924 — Roxie is a 12-year-old Spayed female, white and gray Domestic Mediumhair cat. She is a very sociable and friendly senior. Her front two paws were declawed, but she doesn't let that slow her down! She enjoys a warm lap and lots of attention. Roxie is very sweet and sociable and will make an ideal companion for someone in a quiet home.
Our friends in Pasadena Humane Society have some tips in animal adoption:
Adopting an animal may be more involved than you realize, they warn. Keep in mind that everything they do is aimed at getting the best permanent home possible for the animals and that everyone who comes to the Pasadena Humane Society to adopt an animal goes through the same process.
You must apply in person, be at least 18 years old and have a current photo ID.
The process takes a minimum of 30-45 minutes. Here is what will happen:
You can take a walk through the animal areas and write down the ID number or "A" number on the kennel card of any animal that interests you. Bring this list to the adoption office.
Then complete the application for adoption. (You do this before visiting with any of the animals in order to minimize stress for the animals.)
Next, a member of the adoptions staff will meet with you and ask questions about your experience, and discuss the information we have about your potential pet. You can ask questions, too, about spay/neuter, training classes, or anything else you can think of.
You may be asked to obtain your landlord's approval for the adoption. This policy helps us reduce the number of animals that are returned to us.
After you have spoken with an adoptions staff member, you will visit with your potential pet. Eventually, we ask that all members of your family meet the animal, too. If you are adopting a dog and have another dog, we want them to get along well, so we arrange a time for you to bring in your pet for a visit.
When your new pet is ready to go home with you, you will be asked to sign an adoption contract and pay an adoption fee. The fee helps to cover the cost of surgery, vaccines and daily care that your pet received.
For more information and inquiries, call: (626) 792-7151 or email: adoptions@pasadenahumane.org