Altadena Now is published daily and will host archives of Timothy Rutt's Altadena blog and his later Altadena Point sites.
Altadena Now encourages solicitation of events information, news items, announcements, photographs and videos.
Please email to: Editor@Altadena-Now.com
James Macpherson, Editor
Candice Merrill, Events
Megan Hole, Lifestyles
David Alvarado, Advertising
Archives
Monday, June 8, 2015
Leo! Hilda! Lori! Bethany! Here are Our Pets of the Week
This week, we introduce you to four pets up for adoption now at the Pasadena Humane Society. See a friendly face you want to bring home? Call (626) 792-7151 with the ID number.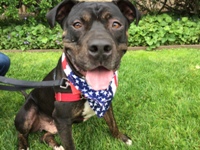 A375970 – Leo is a two-year-old, male, black and white Pit Bull Terrier and Rottweiler mix. He is a sweet and affectionate fellow! Leo knows his sit, down and stay commands. He earned his Blue Ribbon from behavior staff, which reduces the adoption fee to $100. Leo has already been neutered which means he is able to go to his new forever home today!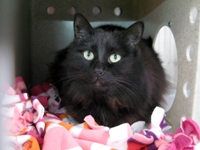 A378438 – Hilda is an eight-year-old, female, black domestic longhaired cat. She is affectionate, but shy. Hilda enjoys attention, but would be best suited to a quiet home where she can have time to herself when she needs it. Hilda qualifies for the Seniors for Seniors program which waives the adoption fee for adopters age 60 and up. The mandatory microchip fee of $20 still applies.
A376849 – Lori is a four-year-old, Female, brown Shorthaired Rabbit. She is calm and curious and enjoys having her ears gently rubbed. Her adoption fee is reduced to $15 during our "Hop Into Summer" event.
For the Extra Love Category
A374753 – Bethany is a sweet and friendly two-year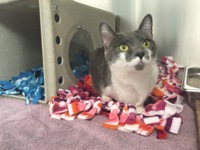 -old blue and white Domestic Shorthaired tripod cat. Bethany has only three legs, but she doesn't let that slow her down! She is sociable and curious and enjoys attention. Bethany has already been spayed which means she is ready to go to her new forever home today!
Our friends in Pasadena Humane Society have some tips in animal adoption:
Adopting an animal may be more involved than you realize, they warn. Keep in mind that everything they do is aimed at getting the best permanent home possible for the animals and that everyone who comes to the Pasadena Humane Society to adopt an animal goes through the same process.
You must apply in person, be at least 18 years old and have a current photo ID.
The process takes a minimum of 30-45 minutes. Here is what will happen:
You can take a walk through the animal areas and write down the ID number or "A" number on the kennel card of any animal that interests you. Bring this list to the adoption office.
Then complete the application for adoption. (You do this before visiting with any of the animals in order to minimize stress for the animals.)
Next, a member of the adoptions staff will meet with you and ask questions about your experience, and discuss the information we have about your potential pet. You can ask questions, too, about spay/neuter, training classes, or anything else you can think of.
You may be asked to obtain your landlord's approval for the adoption. This policy helps us reduce the number of animals that are returned to us.
After you have spoken with an adoptions staff member, you will visit with your potential pet. Eventually, we ask that all members of your family meet the animal, too. If you are adopting a dog and have another dog, we want them to get along well, so we arrange a time for you to bring in your pet for a visit.
When your new pet is ready to go home with you, you will be asked to sign an adoption contract and pay an adoption fee. The fee helps to cover the cost of surgery, vaccines and daily care that your pet received.
For more information and inquiries, call: (626) 792-7151 or email: adoptions@pasadenahumane.org