Looking back: Creative Altadena
Apr 08, 2015 11:56AM, Published by Timothy Rutt, Editor, Categories: Community, Today, Culture, News
---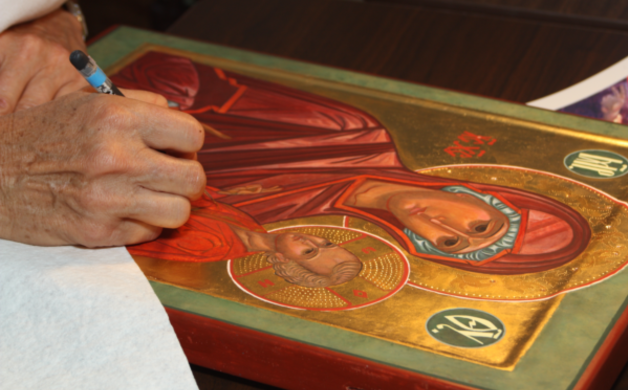 A student at work at Ed Beckett's icon writing workshop.
---
---
As we wrap up our website this week, we've been reminiscing about our past seven years telling Altadena's story.  One of the things we love about Altadena is living in a community of amazingly creative people.  In music, visual art, photography, drama, and so much more, this is a place where creative folks really shine.
Over the years, we've done several features on some of these creative Altadenans, and these stories always rise to the top for us — possibly because we also really like them all personally.
Ibarionex Perello:  A photographer, teacher, author, and podcaster, Ibarionex is a master of the photographic medium and someone we're proud to call our teacher.  His technical knowledge and eye for composition and light are astounding and instructive.  We love his colorful, eye-catching pictures, and how he can dramatically capture people through his lens.  Lately he's been doing more work in black and white, and it is equally impressive.  He's a nice guy with great taste in hats, too!
http://www.altadenablog.com/2011/08/the-light-fantastic.html
Sarah Allegra:  Allegra is a great example of triumphing over the odds. The photographer/model suffers from a debilitating physical condition, and began using her experiences and feelings as fodder for her skills with the camera and Photoshop.  Then she branched into using her skills, ingenuity, and crafts ability to create resonant images on mythological themes, frequently turning her Altadena backyard into a forest primeval where archetypal things happened.  She and husband Geoff Ashley recently moved to Sierra Madre, but she is continuing her work, recently signing on with a publishing company to do some work related to one of her favorite authors, Peter S. Beagle.  We think she's inspiring.
http://www.altadenablog.com/2013/05/with-craft-and-ingenuity-sarah-allegra-creates-art-from-deep-pla…
Steven T. Seagle:  We took a liking to Steven right away, because we're both comic book guys from Boulder, Colorado.  But Steven doesn't collect them, he writes them: he's written comics for every major comic publisher and many minor ones, he's done film adapations to comics, and he's renowned for his thought-provoking graphic novels.  While his comics skew to adults, he's not afraid of kids, either:  his creative collective called Man of Action has created video games and cartoons aimed at the younger set.  The recent Disney movie, "Big Hero Six," is based on Man of Action's characters and concepts.  Then there's his stage work …  He's an unstoppable creative force.
http://www.altadenablog.com/2013/10/steven-t-seagle-man-of-action.html
Polly Frost: The New York City-based writer and performer was born in Pasadena and spent her first 15 years in Altadena.  In 2013, she brought her one-woman show, "Bad Role Models and What I Learned From Them," to the place where it all began, performing it in the Altadena horse stable where she'd learned to ride.  Her riding teacher, Aloha Robinson, was an archetypal Altadena resident — a former film actress who smoked profusely and never met a Scotch she didn't like.  Later, Frost performed her play in a stint at the old Webster's Fine Stationers.
One of the themes she touches on in her play are the differences between Altadena and Pasadena.  Altadena is "not about people who want to conform," Frost said. In Altadena, "I remember many kids came from problematic backgrounds.  My best friend in third grade, his father was in jail.  That wouldn't have gone over in Pasadena, but in Altadena it was OK …
"I love living in [Greenwich] Village for the same reason — lots of wayward people."
http://www.altadenablog.com/2013/01/polly-frost-looks-at-her-altadena-bad-role-models.html
Ed Beckett: The Altadena painter already had a notable career when he turned his attention to the spiritual:  Eastern Orthodox icons.  Writing an icon (one does not "paint" an icon) requires a peculiar discipline, spirit, and habit of mind.  Beckett was attracted to the Prosopon school of Russian-Byzantine icon writing, which is very strict and theologically-based. Beckett teaches classes on icon writing, using his years of experience as an artist to inform this very disciplined art form.
It also shapes his other art:  Beckett is creating a series of "secular icons," objects of meditation for various professions that are informed by the methods and tropes of Orthodox iconography.
http://www.altadenablog.com/2010/10/windows-into-heaven-an-ancient-art-on-altadena-drive.html
Marisol Martinez & Lance Anderson:  one of several only-in-Altadena "power couples," each has notable achievements of their own: Martinez is a chiropractor and yoga instructor, but is also well known as an ultramarathoner, someone who's not afraid of tackling a 100 miles of forest trail at a time.  Anderson is a storyteller and pioneering podcaster as well as a fan and historian of the Beat era.
But put them together, and they catalyze into something altogether different yet compimentary:  creative and dedicated leather artists, the proprietors of California Bohemian Leather.  Starting from point zero, the pair have created a business crafting unique and beautiful handmade and custom belts, cuffs, pendants, and guitar straps.  One of their prime markets is Martinez' fellow ultramarathoners, who may earn a belt buckle for their efforts and need a belt that's worthy of the achievement. We're the proud owner of several of their belts, and they're just darned good. We also commissioned a camera strap from them that is one of our favorite possessions, and the more wear it gets, the better-looking it is.  Thanks, guys!
http://www.altadenablog.com/2011/10/california-bohemian-leather.html
---
Want to speak your mind? Comment below!
---
---
sarah allegra ibarionex perello marisol martinez Polly Frost Ed Beckett Lance Anderson
---
You might also like
---