"Empty Bowls" benefit to help homeless families
Apr 09, 2015 11:19PM, Published by Timothy Rutt, Editor, Categories: Community, Today, News
---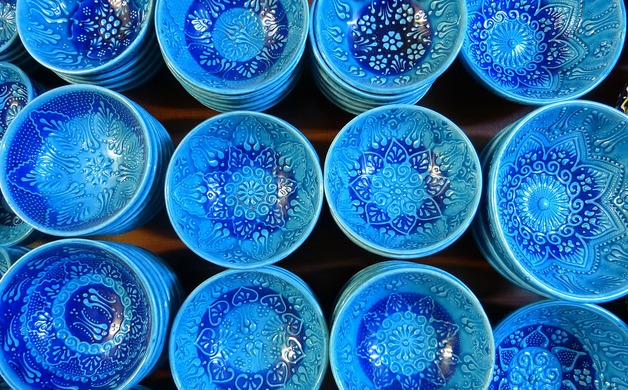 ---
---
Buy a Handcrafted Bowl, Sip Some Soup, Help Homeless Families
"Empty Bowls" Event to Benefit Family Promise of San Gabriel Valley
Family Promise of San Gabriel Valley invites the public on Sunday, April 19, to Empty Bowls 2015, an exciting and fun-filled event to help homeless children and their families.
Guests can buy a beautifully handcrafted ceramic soup bowl donated by local potters and enjoy a delicious soup prepared by Southern California restaurants. The event also will include drawings for gift baskets and live music.
All proceeds from Empty Bowls will go to Family Promise, a nonprofit organization that shelters homeless families while helping them find employment and housing.
"This is a great opportunity for people to make a difference in their own communities and neighborhoods," said Family Promise board Chairwoman Karen Roberson said. "Your participation can keep homeless children and their families off the streets and help them find employment and more stable housing."
Empty Bowls will be held from noon to 3 p.m., at Sierra Madre United Methodist Church, 695 W. Sierra Madre Blvd. The cost is $30 per person per bowl with online registration through April 18. After that, tickets are available at the door only for $35. Children under 5 will be admitted free of charge and served soup in a safe, recyclable plastic bowl.
A host of local potters, schools and artists made Empty Bowls possible by donating the handcrafted ceramic bowls. They include:
Clay Works Potter Studio
Creative Arts Group
East LA College
First Christian Church Fine Arts Academy
Glendale Community College
Long Beach City College
Mt. San Antonio College
Pasadena City College
Ramona Convent Secondary School
Rio Hondo Community College
The American Museum of Ceramic Art
Karen Keller
Mann Handmade
Susan Hanley.
In addition, a number of restaurants, organizations and cooks are contributing soup, bread, water and cookies for Empty Bowls:
Alberto Penate
Central Park Café
Charlie's Trio
Eddie's Pizzeria
Fabiolus Café
Heirloom Bakery
Le Pain Quotidien
Margarita's Mexican Restaurant
North Woods Inn
Paco's Mexican
Panera Bread
Fran Garbaccio
Liz Peterson
Barbara Turner
Nancy Tosch
San Gabriel Valley Consortium of Homelessness
Sparkletts Water
Subway
Wang's Chinese
Wolf's Market.
California ranked as the third worst state in the country in 2013 based on the extent of child homelessness, according to the National Center on Family Homelessness. Nearly 527,000 children were homeless at some point in 2012-13, according to a report by the center. Being homeless disrupts children's education and can traumatize them.
Founded in 2009, Family Promise of San Gabriel Valley has created a network of more than a dozen local congregations that take turns — a week at a time — housing and feeding homeless families admitted into the program. The network includes congregations in Pasadena, Altadena, Arcadia, South Pasadena, Alhambra, Monterey Park, Sierra Madre, Rosemead, Temple City and San Gabriel. During the day, our staff helps parents find jobs, housing and other services, while the children attend school.
Last year, Family Promise served 19 families, including 32 children. Fifteen of these families were able to find other housing while with Family Promise. The average length of stay in the program was 48 days. The Family Promise model makes cost-effective use of existing facilities and services throughout the community. It increases volunteerism and fosters collaboration in the community to serve homeless and low-income families.
---
Want to speak your mind? Comment below!
---
---
---
You might also like
Tour of Altadena bike ride Saturday morning
  Don't forget that Saturday is the annual Tour of Altadena bike ride, sponsored by the Altadena Sheriff's Station and the Los Angeles Sheriff's Athletic Association. There'll be a ten mile family fun ride, and a 12.5 mile hill challenge for the serious biker. The ride starts and finishes at Loma Alta Park on Palm St. east of Lincoln Ave. Registration starts at 8 AM, and the ride begins at 9 AM.  Registration is $10, and proceeds the LA County Sheriff's Annual Charitable Giving Campaign.  There will also be an opportunity drawing with tickets $1 each or six for $5.    
Scissors/Paper/Rock collecting for women & children, announces concert
Altadenablog sponsor Scissors/Paper/Rock Salon and Boutique, 1864 N. Allen, is in the midst of a holiday benefit for URDC Human Service, Casa Maria, and Choices. From now until Dec. 18, if you donate a new and unwrapped gift for a woman or child (ages 0-18),  receive 20% off all product purchases. The salon also continues its tradition of live music with a free concert on Sat., Dec. 11, from 3-5 PM.  Local artist Cynthia Null will play traditional songs, folk, and rock on her mandolin and fiddle.  
Alternative Gift Market at Altadena Community Church Sun.
This Sunday afternoon, Nov. 28, from noon to  2 PM, Altadena Community Church will hold its  Alternative Gift Market: Take care of your holiday shopping and make a donation to local and global causes (Altadena Food Pantry, Union Station Homeless Services, and others) in one easy transaction.  For your donation, you will receive a card to send to your boss, Uncle Harry, or grandkids telling them of the groceries, housing assistance, disaster relief, etc., that you have purchased in their name.  There will also be Third World handicrafts available for purchase.  Altadena Community Church/United Church of Christ is at 943 E. Altadena Dr.
---